Kansas basketball: Former Jayhawk Zuby Ejiofor transfers to St. John's
Kansas basketball transfer Zuby Ejiofor did not take long before choosing his next school. He is heading to New York City to play for St. John's.
Eight Kansas Jayhawks entered the transfer portal this offseason, and Zuby Ejiofor was one of them. He decided to depart from the program after superstar big man Hunter Dickison committed to KU, putting Ejiofor's already slim role in jeopardy.
Zuby spent one year under Bill Self before transferring last week. In his lone season in Lawrence, Ejiofor averaged 1.2 points and 1.7 rebounds. The 6-foot-9 center lined up visits with four schools but cut his stops to TCU and San Diego State, committing to St. John's on his visit.
Today marked the final day of his visit to Queens, New York City, and Ejiofor decided it was the school for him. The Red Storm hired college basketball legend Rick Pitino as their new head coach two months ago, which surely appealed to Zuby.
Ejiofor's presence will be much more appreciated at SJU than it was at Kansas. He played just 128 minutes this year with the Jayhawks, an average of 5.1 minutes played per game.
He becomes the ninth transfer to head to St. John's this offseason, joining the likes of Jordan Dingle and Glenn Taylor Jr. After coaching at Iona for three seasons, Pitino has made the Red Storm into a top-notch Big East program once again.
The move officially terminates any opportunity for Ejiofor to return to Kansas for another season, which was already unlikely regardless. We wish the best for Zuby in his future endeavors and hope he buds into a star at St. John's.
Follow @ThroughThePhog on Twitter and like our page @throughthephog on Facebook for more Kansas Jayhawks coverage. You can apply to write for us by clicking the link below.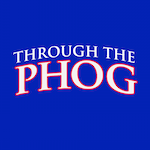 Want your voice heard? Join the Through The Phog team!
Write for us!