Kansas football can't afford to whiff on National Signing Day
National Signing Day is quickly approaching and Kansas football can't afford to come away empty-handed.
In less than one week, Kansas football will more or less have its 2020 recruiting class. National Signing Day is coming up next Wednesday, February fifth, and the Jayhawks will look to bring in an above-average recruiting class.
Kansas football is currently ranked No. 50 in the nation based on their 2020 recruiting class according to Rivals. They were actually ranked in the thirties just a couple of weeks ago, but the Jayhawks have struggled with multiple decommitments since then, including four-star defensive end Brennon Scott.
READ MORE: Loss of four-star recruit hurts KU
The Jayhawks still have multiple verbal commitments from recruits that didn't sign during the early signing period. Three-star recruits Jackson Satterwhite and Kenean Caldwell are two prospects the Jayhawks need.
Caldwell, a defensive tackle from Louisiana could be a force for Kansas in the future. He committed back in June of 2019, but he still holds offers from Oregon, Ole Miss, TCU, Colorado, and others.
Satterwhite is an impressive six-foot-five and 285-pound tackle from Oklahoma, but neither of the two Big 12 schools in his home offered him. 247 Sports called him an "FBS-caliber offensive line prospect with possible position versatility."
There's one prospect that's very intriguing though.
Ashaad Clayton, is a four-star running back from New Orleans, and he's currently verbally committed to Colorado. Clayton showed real interest in Kansas though by taking a visit in December, one of three schools he decided to visit despite having multiple schools after him. He currently holds offers from Alabama, LSU, Texas, Georgia, Nebraska, and others.
Landing Clayton would be an unbelievable move for Les Miles and Kansas football, plus it'd give the Jayhawks arguably the best backfield in the Big 12 for the foreseeable future.
Speaking of the future, it's looking brighter. Kansas football's average team rankings over the past five years in recruiting is 66.6 according to Rivals. The Jayhawks have a chance to sign a solid class of 2020, and we'll find out whether or not it happens next Wednesday. If they whiff this year, it could spell more of the same for the future.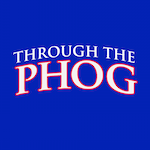 Want your voice heard? Join the Through The Phog team!
Write for us!
If Les Miles is going to succeed at Kansas, he's going to have to use his name and resume to bring in recruits, because they aren't going to come for the "tradition." The tradition will come later, right now, it's about bringing in the right athletes who want to be at Kansas and play for a national championship-winning coach. If Miles and his staff can sign those prospects, the Jayhawks will improve on the field. It's that simple.