Kansas football: Loss of four-star recruit hurts Jayhawks bad
Kansas football recently lost one of their highest rated recruits in the 2020 class.
Brennon Scott, a four-star prospect out of Dallas, Texas decommmited from Kansas football on January 7. It was a major blow to Les Miles' 2020 recruiting class, as Scott was the Jayhawks' highest rated recruit according to Rivals.
The talented linebacker committed to Kansas back in August after receiving offers from Arkansas, USC, Georgia, Florida, Texas, and other major schools. Scott scheduled an official visit with Arkansas on January 17, and it looks like that might be where he's headed.
Scott announced his decision to decommit from Kansas football via Twitter:
— Silent Assasin 👹 (@goliveB) January 7, 2020

The loss of Scott also hurt the Jayhawks in the recruitment rankings.
Kansas football dropped out of the top 40 on Rivals' 2020 team rankings. The Jayhawks are now sitting at number 42 in the country and tied for seventh in the Big 12 with in-state rival Kansas State. Before Scott decommitted, the Jayhawks were sitting at fourth in the Big 12 only behind Oklahoma, Texas, and West Virginia.
Why Scott decided to leave the Kansas football program is anybody's guess.
It could have to do with the fact the Kansas wide receivers coach Emmett Jones is rumored to be leaving the Jayhawks for Texas, as Jones was the coach that recruited Scott to Kansas. It could also be the case that Scott wasn't very committed to the Jayhawks from the start.
Back in December, Scott Tweeted that he was still committed to Kansas; however, his recruitment was still open. As a matter of fact, the aforementioned Arkansas visit was scheduled all the way back in December as well.
It could be neither of those things, but the bottom line is that the Jayhawks just loss their best recruit of the 2020 class.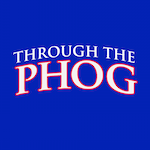 Want your voice heard? Join the Through The Phog team!
Write for us!
Scott isn't the first recruit Kansas football has lost from the 2020 class, but hopefully, he'll be the last. The Jayhawks need all the talent they can find if they're going to succeed in the Big 12 and they can't afford to whiff in recruiting.