Kansas basketball: Jayhawks can't get beat on the glass
Kansas basketball can't get beat on the glass against Baylor like they did against West Virginia.
If there's one problem that I thought Kansas basketball wouldn't have to deal with this season, it was getting outrebounded. Last Saturday against West Virginia, Kansas totaled 30 rebounds compared to the Mountaineers' 44, 21 of which came as offensive rebounds.
West Virginia's offensive rebounds gained the Mountaineers an additional 15 second-chance points, and easily could have cost Kansas the win. Granted, West Virginia is one of the best teams in the nation at offensive rebounding.
The Mountaineers rank seventh in the nation in offensive rebounding according to KenPom. So why does this matter?
Similar to West Virginia, Baylor is also good on the offensive boards. The Bears rank fifth in the nation in the statistic according to KenPom, so the Jayhawks are going to have to do their best to limit Baylor's second-chance points. Interestingly, Baylor isn't even that tall either. In the Bears' starting lineup, Freddie Gillespie is the giant among the group, but he only stands at six-foot-nine.
READ MORE: Five things to know about Baylor
The Bears racked up 21 second-chance points against Texas, leading to a 59-44 Baylor victory. Against Texas Tech, Baylor beat the Red Raiders on the glass 44-25, including 17 offensive boards. The Bears took down Texas Tech on the road 57-52, and the Red Raiders were probably wishing they'd gotten one or two more rebounds after the five point loss.
The Jayhawks can't make the same mistake as Texas Tech.
It's going to take a massive effort from Udoka Azubuike and David McCormack to try and match Baylor's rebounding prowess, but it'll take more than those two to hang with the Bears. Kansas basketball will have to crash the boards hard from all positions to try an neutralize Baylor's advantage, and even then it may not be enough.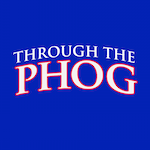 Want your voice heard? Join the Through The Phog team!
Write for us!
You can catch the Jayhawks take on Baylor tomorrow afternoon at 12:00 PM (CT). The game is set to be broadcast on CBS.
If Kansas gets dominated on the glass, it's going to be a tough win. Hopefully, the Jayhawks aren't regretful like Texas Tech probably was.