Kansas basketball: Five things to know about Baylor
Kansas basketball will face the fourth-ranked Baylor Bears this Saturday at home. Here are five things to know about the Bears.
Both Kansas basketball and Baylor picked up valuable road wins this week as the two Big 12 top dogs are set to clash this Saturday at high noon. It's an important game that'll help shape the landscape of the conference this season, and it could also help decide which team receives a one seed in the NCAA Tournament.
Here are five things to know about the Baylor Bears:
1. The Bears only have one loss this season
Baylor is more than deserving of its ranking in the most recent AP Poll. The Bears came in at fourth this week, as they're on an 11 game winning streak. Baylor's only loss this season came in the second game of the year on a neutral court against Washington. The Bears were defeated 67-64 by the Huskies.
2. Baylor relies on its defense
Similar to most teams in the Big 12 this season, the head coach Scott Drew and the Bears rely on their defense more than offense. According to KenPom, Baylor ranks number 32 on offense, and eighth on defense (compared to Kansas basketball's eleventh in offense and second in defense).
3. The Bears are strong on the offensive glass
Like West Virginia, Baylor is good at coming down with offensive rebounds and getting second-chance points. Last week, West Virginia out-rebounded Kansas 44-30 with 21 of those rebounds being on the offensive glass. If the Jayhawks allow Baylor to get lots of second-chance opportunities, it's going to be hard for Kansas to get the win.
4. Baylor is looking for its first Big 12 title this season
Since Baylor joined the Big 12 in 1996 after the Southwest Conference dissolved, the Bears have yet to win a Big 12 regular-season title or even a share of it. So far, the closest the Bears have gotten to a championship was when they finished tied for second in the conference during the 2009-10 and 2016-17 seasons.
5. Kansas basketball and Baylor are similar
Kansas and Baylor are very similar basketball teams. Both heavily use a four-guard lineup, both rely on their defense, both are ranked in the top five, and both have the potential to be number one seeds this season. This is one of the biggest conference games of the year, and the winner will have a leg up when the Jayhawks travel to Waco later in the season.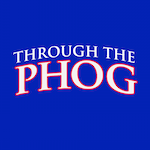 Want your voice heard? Join the Through The Phog team!
Write for us!
Kansas basketball will take on Baylor this Saturday the 11th at high noon in Allen Fieldhouse. You can catch the game on CBS.