Kansas basketball: Turnovers continue to plague Jayhawks
Despite a win to start off Big 12 play, Kansas basketball continued to turn the ball over too many times.
Death, taxes, and Kansas basketball committing too many turnovers.
After turning the ball over 10 times in the first half last Saturday against West Virginia, the Jayhawks tightened up and only turned the ball over four times the rest of the game. Bill Self must have got onto the team during halftime, because the second half was night and day from the first half in that regard.
So far this season, Kansas basketball is turning the ball over around 14 times per game which ranks 236th in the nation according to the NCAA. Turnovers have already cost the Jayhawks one game against Duke, where they lost the ball an astounding 28 times in one game.
For more statistical proof, KenPom says Kansas is turning the ball over on 20.2% of their possessions which ranks 216th in the country.
Of course, the Duke game was the first of the season and it's an extreme example, but the problem is far from solved. It's honestly amazing that Kansas has the number of wins they do considering the number of times the Jayhawks have turned the ball over this season.
With the upcoming slate, Kansas had better start taking care of the basketball.
The Jayhawks are set to hit the road in the next three out of four games and take on some tough opponents too. Most notably, Kansas will face off against the #4 Baylor Bears, who're certainly in the running for a Big 12 title this season. The Jayhawks will also play Iowa State, Texas, and Oklahoma on the road.
READ MORE: New AP poll features two Big 12 teams in top five
If Kansas is going to beat Baylor and pickup road victories, the Jayhawks must knock down their turnover average, or they'll be at a severe disadvantage. To put the Jayhawks' turnover problem into perspective, Iowa State only turns the ball over 12 times per game, meaning the turnover differential between the two could translate to as much as a six point swing.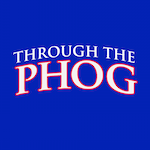 Want your voice heard? Join the Through The Phog team!
Write for us!
The Jayhawks' first road test of the Big 12 schedule comes tomorrow night against Iowa State. The game is set to begin at 7:00 PM (CT) and be streamed on ESPN+. Hopefully, Kansas can begin to cut down on their turnovers against the Cyclones.