Kansas Basketball: Battle to keep donors, students happy
Allen Fieldhouse is one of the top sports venues in the nation. Seeing a Kansas basketball game at the Fieldhouse is a life-changing experience but sometimes difficult for students to get in.
From the history, to the screams of passionate fans and the Rock Chalk Chant, attending a Kansas basketball game at Allen Fieldhouse should be a bucket list destination for any college sports fan.
In the first place, the primary reasons the Fieldhouse is so incredible; the dedicated student fans. The student sections located right behind and extending up from each basket provides the chants and cheers of amped up KU students that dominate the atmosphere.
As a recent KU graduate, I can tell you these seats are not always easy to come by. It is no secret, students camp out and wait for days to secure the best seats. Last month, the university announced that they reallocated a former student section of 420 seats to KU donors. With that, the university has eliminated over 500 students seats since 2014.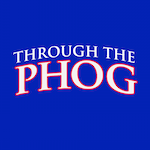 Want your voice heard? Join the Through The Phog team!
Write for us!
While many students are upset about this change, KU defended their decision citing student attendance statistics. Associate Athletic Director Jim Marchiony told Jesse Newell in the KC Star the number of students attending games is in decline. Seriously? That surprised me.
Every time I attended a Kansas basketball game as a student, it was extremely difficult to find a seat in the student section. Most of the time we would resort to overcrowding rows. We did this in order to make sure every student who showed up got a seat in the student section.
All things considered, I understand the reallocation of the seats to donors and the university's offer to help students who might not have the discretionary cash to pay for tickets. Donor participation is a critically important part of the process. On the other hand, I also hope that this decision doesn't prevent other students from having the opportunity to experience Kansas basketball at the fieldhouse.