Kansas basketball: Kevin McCullar withdraws from NBA Draft to retain college eligibility, will return to KU
Kevin McCullar is withdrawing his name from the NBA Draft pool and will return to Kansas basketball for a super senior season.
One of the most significant developments of the offseason, Kevin McCullar recently announced that he would play another year with the Kansas Jayhawks. It is a move that makes KU the undisputed No. 1 team in the country.
A transfer from Texas Tech, McCullar played 34 games with the Jayhawks in his first season in Lawrence. He averaged 10.7 points, 7.0 rebounds, and 2.4 assists while shooting 44.4 percent from the field.
McCullar was listed on the All-Big 12 Defensive First Team in 2022-23 and even finished as a semifinalist for the Naismith Defensive Player of the Year Award. He is one of the best on-ball defenders in the country and is the cherry on top for an already stacked Kansas roster.
The initial chances of him returning were slim, but KU insider Mike Vernon reported yesterday that it was more likely than not that McCullar would return.
RELATED: 3 advantages, disadvantages for McCullar if he returns to Kansas
Head coach Bill Self said himself at KU's award banquet that he wanted McCullar to return to school, and it eventually came to fruition. Kansas is returning one of the nation's best defenders and the glue guy of last year's team.
There is now one open scholarship for Kansas to fill, which could remain untouched if the Jayhawks do not find a worthy transfer player. McCullar returning is practically as important to KU as it was for Hunter Dickinson to commit. Fans should be extremely excited for next season, and Kansas basketball is the clear favorite to win it all in 2024.
Follow @ThroughThePhog on Twitter and like our page @throughthephog on Facebook for more Kansas Jayhawks coverage. You can apply to write for us by clicking the link below.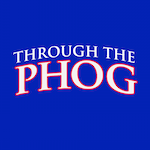 Want your voice heard? Join the Through The Phog team!
Write for us!