Kansas baseball: Jayhawks begin three-game set to round out regular season
Kansas baseball will look to avenge their disappointing series loss to Samford in their final regular season series of the year.
It has been an up-and-down year for Dan Fitzgerald in his inaugural season as the baseball coach for the Kansas Jayhawks. With only a handful of games remaining, his squad sits at 23-28 with a 7-14 record in conference play.
The Jayhawks headed to Birmingham, Alabama, to face Samford last Thursday. Not only did Kansas not complete what should have been an easy non-conference sweep — they only took one of three games in the series. Samford was previously 0-7 against Power 5 schools this season.
Thankfully, baseball games do not carry over, and KU will get a fresh start starting today at 6:30 PM CT in Lubbock. The Red Raiders are 35-18 overall but just 10-11 in conference play, three games ahead of Kansas. It is the final regular season series for Kansas.
RELATED: Kansas takes one of three in final regular season home series
Kansas will look to carry some momentum heading into the Big 12 Tournament. Baylor's recent loss to TCU eliminated any chances of them jumping KU in the standings, as they sit at a meager 6-18 in conference play. However, the Jayhawks must perform well in this series to show they are ready for the tourney.
The last time Kansas made the Big 12 Tournament was in 2019. They tied with West Virginia in 2021, eventually losing a play-in game for the No. 8 seed, and missed outright in 2022. Despite finishing second-to-last in the Big 12, KU is eligible for the tournament because Iowa State does not have a baseball team, making eight out of nine schools conference tournament eligible.
As mediocre as the team has been, they can make some noise and earn an automatic bid to the NCAA Regionals if they win the Big 12 Tournament. And if they do not, hopefully, they will not go down without a fight.
Follow @ThroughThePhog on Twitter and like our page @throughthephog on Facebook for more Kansas Jayhawks coverage. You can apply to write for us by clicking the link below.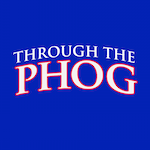 Want your voice heard? Join the Through The Phog team!
Write for us!