Kansas basketball HC Bill Self's lifetime contract is a major win
After 18 years since his hire, Kansas basketball head coach Bill Self just signed a lifetime contract with the Jayhawks.
If you're a Kansas basketball fan, you're probably used to seeing head coach Bill Self running up and down the court-side every winter.
Kansas has just signed the national championship coach to a lifetime contract, which means we'll be seeing Coach Self for while now.
Following the past few seasons, along with the ongoing NCAA investigations, there has been some skepticism about whether or not Self would continue his role at Kansas.
Earlier in the year, Self had mentioned that stepping down "never crossed his mind" during the ongoing NCAA investigations.
It appears he's committed to the crimson and blue, as his contract will change to a revolving one, that will extend to the end of his professional coaching career.
The move shouldn't surprise fans though, as Self has been in Lawrence since 2003 and is chasing his second national title with the Jayhawks' program.
While it's been over a decade since Self last led the Jayhawks to a national title, but his consistent seeding in the NCAA tournament, along with a handful of solid runs shouldn't go unnoticed either.
Along with his success in Lawrence, he's put a decent number of players in the NBA, which is a strong feature for any program to have recruiting-wise.
The move by Kansas Athletics shows that they want Self here for the long-haul, and they might've just succeeded.
Kansas is going to be coming out of a tough spot following the NCAA's investigation, and having someone with a strong faith in the program should help the team emerge without too many scratches.
Coming off a season that had its share of scary moments, it's refreshing to see that Coach Self is committed to continuing the basketball tradition at Kansas.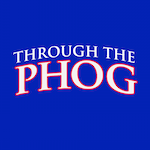 Want your voice heard? Join the Through The Phog team!
Write for us!