Kansas basketball: Tyon Grant-Foster could see more minutes in the 2021-22 season
Tyon Grant-Foster saw his minutes slip towards the end of the season. The junior guard could see more floor time for Kansas basketball next year.
Making contributions for Kansas basketball throughout the earlier dates of the 2020-21 season, Tyon Grant-Foster saw a shortage of minutes heading into the postseason.
He added a spark against USC, although it didn't amount to much in the 34 point loss. Regardless, it was refreshing to see some offensive consistency from Tyon.
Receiving another year of eligibility due to the pandemic, the Indian Hills junior college transfer will return with a Kansas team with a solid amount of potential.
Along with soon-to-be seniors Ochai Agbaji and David McCormack, Tyon will have the opportunity to take up more minutes following the considerably light amount of playing time that he saw in the bottom of half of the 2020-21 campaign.
Standing at 6′ 7", Grant-Foster has a height advantage combined with versatility when handling the ball. However, until his 7 point performance against the Trojans on Monday, he hadn't hit a bucket since February against Kansas State.
While he saw little playing time up until tournament time, he did tend to contribute offensively when Kansas was establishing leads. This can only be appreciated so much though, as he isn't a strong three-point shooting asset.
ALSO READ: Dajuan Harris continues to impress in first round win over E. Washington.
It's hard to point down where exactly Tyon will land roster-wise next season, but we should hope that he improves offensively. With this maneuverability, there is some potential for the junior.
If Grant-Foster can tap into his speed and agility some more, he could have a similar path to more time on the floor as freshman Dajuan Harris, who found an impressive amount of playing time in his first season with the Jayhawks.
While development will be crucial heading into his senior year, Tyon will have a chance to earn some more minutes which will come with improving his offensive attack. As Kansas enters the off-season, his progress will be something to keep our eyes open for.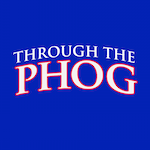 Want your voice heard? Join the Through The Phog team!
Write for us!