Kansas basketball: A quick look at second round opponent USC
Here's a look at what the No. 6 seeded USC Trojans bring to the table in Round 2.
Entering the second round, Kansas Basketball will face a tough USC team, as the No. 6 seeded Trojans are coming off a 72-56 win over Drake.
With a Sweet 16 spot on the line, the Trojans' size and talent present a challenge to Kansas. USC enters this game with a 23-7 record, finishing 2nd in the Pac-12.
Coach Andy Enfield
USC is coached by Andy Enfield, who you may recall took a 15-seeded Florida Gulf Coast program to the Sweet 16 in 2013. Enfield collected Pac-12 Coach of the Year honors despite returning only three players.
This is Enfield's winningest team to date. Rallying an inexperienced team through this year's challenges shows Enfield is among the nation's most underrated head coaches.
USC's Size and Length
USC enters as one of the NCAA's tallest basketball teams. The frontcourt is led by 7'0″ freshman star forward Evan Mobley, averaging 16.8 points and 8.7 rebounds per game.
Mobley's athleticism and length make him dangerous on both ends of the floor. We reached out to Reign of Troy, FanSided's USC site, to describe how his size impacts opposing offenses.
Evan Mobley has been the difference-maker for USC on defense as a rim protector. He averages three blocks per game for good reason. With that kind of length, it's just hard to get things by him.

Reign of Troy on Who Kansas should be most concerned about defensively.
Isaiah Mobley, a 6'10" forward, offers an advantage inside with 9.2 points and 7.2 rebounds per game. 6'8″ guard Drew Peterson shoots the ball well and 6'7″ guard Isaiah White is an impactful defender.
The Jayhawks need a strong effort from junior forward David McCormack to compete with USC's post presence. Look for KU's defensive game plan to emphasize defending the paint.
ALSO READ: Dajuan Harris continues to impress in first round win over E. Washington
Rebounding
USC's size gives them an advantage on the glass. The Trojans lead the Pac-12 in offensive and defensive rebounding.
Offensive rebounds and second-chance points will be a deciding factor. Kansas will need to keep USC off the boards to win this game.
This will create a scenario where Kansas will be forced to fight inside battles, which hasn't been the strongest point for this defense.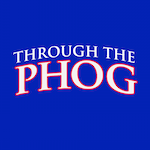 Want your voice heard? Join the Through The Phog team!
Write for us!