Kansas basketball's 'close-call' with UTEP should raise some eyebrows
Trailing for most of the game, Kansas basketball was surprised by the UTEP Miners despite a late comeback victory at Allen Fieldhouse.
Closing out their regular season, Kansas basketball welcome UTEP in Lawrence yesterday. To much surprise, the Miners would quickly establish a comfortable lead within the first 10 minutes.
Despite the momentum-shifting win against Baylor, last night's scare against the Miners nearly cost Kansas their decent seat in the NCAA Tournament.
While it was enough to get fans' attention, many did not expect Kansas to be trailing by 14 at the half. Head coach Bill Self had expressed his displeasure with Kansas' "energy" in the first half.
Kansas' offense wasn't clicking in the first half. Their inside attack with David McCormack was not paying dividends and the Jayhawks were losing rebound opportunities left and right.
Another factor that hit the Jayhawks from the start was the Miners' well-rounded perimeter presence. This made it much harder for Kansas to slow down UTEP's offensive tempo, which outpaced Kansas throughout most of the game.
Leading the Miners with a 23 point performance from Bryson Williams, UTEP would find early offensive success. Heading into the second half, however, Kansas' defense was starting to pick up slightly.
This is where a noticeable change came from Kansas' tempo, as playmakers Christian Braun and Ochai Agbaji found new roles on the floor, cleaning up the glass.
The duo would combine for 12 total rebounds, and create a more productive response for the Jayhawks' defense.
This change would also include support from senior Marcus Garrett, who would post 11 points and go perfect from the free-throw line on the evening.
While Kansas was chipping away at the UTEP lead, the Miners continued taking advantage of their three-point opportunities, which caused a tight situation for the Jayhawks heading into the final minutes.
ALSO READ: Gradey Dick is a strong addition to Kansas basketball's 2022 recruiting class
With under 10 minutes to play, Kansas turned on the gas and outran the Miners to find their first lead of the game with just a few minutes to play. Fueled by an Agbaji three, Kansas would find just enough momentum to pass UTEP 67-62.
If Kansas had dropped this game to UTEP, both their AP rank and confidence would've tanked, which is the last thing this team needs right now.
With the Big 12 tourney next week, this is the wrong time to be letting UTEP slip by with that kind of performance. While Kansas was able to work their way back in it by the end, it should have fans a little skeptical as we brave our way through March.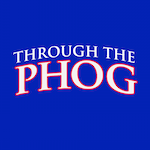 Want your voice heard? Join the Through The Phog team!
Write for us!