Kansas basketball lifts tournament hopes with major home win against Texas Tech
Don't get your hopes up, but Kansas basketball's home win over #15 Texas Tech could signal a different run for the program heading into March.
Finding a major win at home, Kansas basketball is starting to give off some stronger impressions heading into the tournament.
The Jayhawks secured the 67-61 point win over Texas Tech while maintaining a decent lead for most of the game. There were times when the lead would shrink within 3-4 points, but Kansas' defense produced consistent pressure that held back the Red Raiders' scoring threat.
A major contributing factor in Kansas' success was their ability to hold down Mac McClung, who struggled to find opportunities to jump out' throughout the game.
While Kansas win was a defensive story, it also featured another impressive performance by junior forward David McCormack. Dave has been Kansas' main support structure and he held an extremely important on the afternoon with 17 points and 8 total rebounds.
Offensively, Kansas was able to find crucial scoring from playmakers Jalen Wilson and Ochai Agbaji, who both found decent numbers on the day. Ochai had a well-rounded performance, along with momentum shifting three-point shot in the second half.
Starters Braun and Garrett, who struggled from the perimeter, found important roles throughout the game to help build on the win. Braun would find a game-sealing three-point shot to stave off the Red Raiders in Lawrence.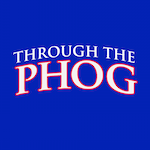 Want your voice heard? Join the Through The Phog team!
Write for us!
Keeping pace on both ends is a very good sign for this program, part of it is the schedule exposure the Jayhawks have seen versus other talented conference opponents.
Compared to programs that have struggled with the pandemic, particularly Texas schools, Kansas has seen more time on the floor to work out the kinks a bit.
The primary concern fans should notice is the lack of perimeter shooting. While Kansas didn't find awful numbers, it was far from ideal.
Unless Kansas can rectify the issues plaguing their three-point shot, I'm not sure how far they'll be able to go tournament-wise. Let's also keep in mind that there's still a tough conference schedule to finish as well. The good news is, this team is hot and finding ways to take control.
Today's win today is a promising sign that Kansas is looking to close off any negative opinions they had received earlier in the season, now having won five straight.