Kansas basketball: Bill Self would have chosen the South Region
Despite March Madness being canceled, Kansas basketball head coach Bill Self says he would have chosen the South Region as the No. 1 overall seed.
A fairly new rule regarding the No. 1 overall seed in Selection Sunday allows that team to choose which region they would play in. Given that Kansas basketball was the clear candidate for the No. 1 overall seed, they'd have their choice of the West, Midwest, South, or East Regional.
A lot of the speculation before the cancellation of March Madness revolved around which regional Kansas would pick, and now, we finally know. Recently, head coach Bill Self said that the Jayhawks would have played in the South Region according to Matt Galloway.
While some fans may have believed the Midwest would be the obvious choice, the South really would have been a much more attractive region.
Kansas would have begun the tournament in Omaha, which is an easy drive from the Kansas City area. After that, the Jayhawks would have headed to Houston for the Sweet Sixteen and Elite Eight. The Sweet Sixteen and Elite Eight would have likely been well-attended by Kansas fans given how many Jayhawks there are down in Texas and in the Houston area.
The South region also would have given Kansas an extra day of rest, which would have been key given that Devon Dotson, Udoka Azubuike, and Marcus Garrett were all banged up heading into the Big 12 Tournament. Considering all three play a ridiculous amount of minutes too, any rest this team could find would have been advantageous.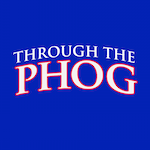 Want your voice heard? Join the Through The Phog team!
Write for us!
Obviously, we'll never know for sure whether the South or Midwest was an easier region since the NCAA won't be releasing a bracket for 2020 March Madness. Based on the logistics alone though, the South seems like it would have been the best pick.