Kansas basketball: It's hard to find a weakness in the Jayhawks
With March finally here, this Kansas basketball team is peaking at the right time. Look for the Jayhawks to make a deep run in the NCAA Tournament.
At the beginning of this season, a common phrase was "there just aren't any elite/dominant teams this year." Now that March is upon us and Selection Sunday is right around the corner, there is at least one team that's dominant, and that's Kansas basketball.
Kansas is sitting at 26-3 overall and 15-1 in Big 12 play. With a win tonight against TCU, they'll claim at least a share of the conference title with an opportunity to win it outright by beating Texas Tech on Saturday as well.
The Jayhawks have more going for them than just their record though.
In terms of their competition, Kansas has played some of the toughest teams in the nation. Their strength of schedule is the third-best in the country according to KenPom, so the Jayhawks can beat good teams.
In addition to their grueling schedule, Kansas also has the most quadrant one wins in the nation. Quadrant one wins refer to the NET rankings developed by the NCAA. Here's how they define each quadrant per the NCAA with the number being opposing teams' rankings:
Quadrant 1: Home 1-30, Neutral 1-50, Away 1-75
Quadrant 2: Home 31-75, Neutral 51-100, Away 76-135
Quadrant 3: Home 76-160, Neutral 101-200, Away 135-240
Quadrant 4: Home 161-353, Neutral 201-353, Away 241-353
Speaking of analytical rankings, Kansas basketball dominates those too. The Jayhawks are the number one team according to multiple major analytics rankings including KenPom, Sagarin, NET, BPI, and others. Of course, Kansas is also the best team in the nation according to the AP Poll where they were unanimously ranked first, and the Coaches Poll.
Even using the eye test, it's hard to find much fault with Kansas this season without nitpicking. Their free throw shooting has been poor at times, but it's improved lately. They could use more production from their bench, but when you have two realistic National Player of the Year candidates on the roster, that's not a bad thing.
Devon Dotson and Udoka Azubuike have been an incredible tandem. If both are on their game, look out, because this offense is unstoppable when both are getting their shots to fall. Their supporting cast is second to none too, with a possible Defensive Player of the Year candidate in Marcus Garrett and other players that would be No. 1 options at a lot of other schools.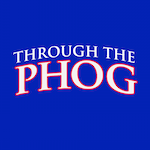 Want your voice heard? Join the Through The Phog team!
Write for us!
Kansas basketball is undoubtedly the best team in the nation. They're peaking at just the right time and they've got a chance to go super deep into the tournament. It's Atlanta or bust for this team.