Kansas basketball climbs to the top of the AP Poll after a big weekend
After their massive win against Baylor, Kansas basketball has officially been ranked No. 1 in the latest AP Poll.
It's official, your Kansas Jayhawks are the No. 1 team in the country! It took a massive road win over the former top team Baylor and a loss by Gonzaga to secure it, but Kansas basketball is now the undisputed best team in the nation.
While some fans don't like having the "target on the back," this is huge for the Jayhawks. It gives them a certain level of prestige, being the best team in the nation. Plus, it's not like teams were taking it easy on the Jayhawks before because they were only ranked 3rd in the country.
Not only that, but rankings probably don't matter as much to coaches and players as they do to the fans and media. We're obsessed with figuring out who the best teams are, while the teams and coaches themselves are just trying to win games.
Big win over the Bears: Biggest takeaway from the win over Baylor
With just four games to go in the regular season and less than three weeks until Selection Sunday, this team is peaking at the right time. Sure, the AP Poll doesn't really matter for basketball, but it's a nice barometer of success and it also makes the Jayhawks look that much better to the committee.
Here are the top five teams in the country according to the latest AP Poll posted this morning:
Kansas
Baylor
Gonzaga
Dayton
San Diego State
There's nothing too shocking about the way the top five came out, so there's not a lot to discuss. There are three other Big 12 teams that made the rankings, including Baylor, West Virginia, and Texas Tech.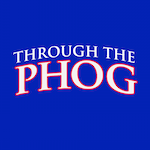 Want your voice heard? Join the Through The Phog team!
Write for us!
If the Jayhawks can win out this season, they'll undoubtedly be set to become the No. 1 overall seed in the NCAA Tournament. That'd be a huge advantage, and it'd help spark a run to bill Self's second national title.