Kansas basketball: Two NBA Jayhawks traded at the deadline
As usual, the NBA trade deadline was a frenzy, and two former Kansas basketball players found new homes in the chaos. The two Jayhawks could win rings soon too.
The NBA deadline didn't disappoint this season. NBA insider Adrian Wojnarowski dropped multiple "Woj bombs," a couple of which contained former Kansas basketball players. Jayhawks Marcus Morris and Andrew Wiggins both found themselves on new teams yesterday, and that's good.
Both trades are major benefits for the Jayhawks, as they went from struggling franchises to future contenders.
Andrew Wiggins drafted first overall by the Cavaliers and traded on draft night to the Minnesota Timberwolves still has yet to play at an all-star level. He hasn't been bad, just not what you'd expect from a first overall pick with the nickname "Maple Jordan."
Yesterday, Wiggins was dealt to the Golden State Warriors along with draft picks in exchange for D'Angelo Russell, Jacob Evans, and Omari Spellman per Adrian Wojnarowski. This is great news for Wiggins and his career.
Minnesota is going absolutely nowhere, but the Golden State Warriors will be title contenders again once they get healthy. Plus, having a good coach in Steve Kerr could really help Wiggins develop into an all-star and play to his potential.
— Warriors Shop (@warriorsshop) February 7, 2020
Marcus Morris, similar to Wiggins, was on a team going nowhere, but now he'll join a title contender in the Los Angles Clippers. The New York Knicks sent Morris to the Clippers in a three-team trade also involving the Washington Wizards. The Clippers are currently second in the Western Conference behind the Lakers, meaning Morris could have a shot at a ring this season.
They gotta dog in Hollyhood @LAClippers let's gets it pic.twitter.com/lQ760kdPxm

— Marcus Morris (@MookMorris2) February 6, 2020
Now that both of these Jayhawks are part of respectable organizations, it'll be interesting to see how they further develop. Morris is currently averaging 19.6 points and 5.4 rebounds per game this season, while Wiggins is getting 22.2 points and 5.2 rebounds per game.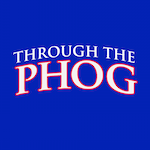 Want your voice heard? Join the Through The Phog team!
Write for us!
These former Kansas basketball stars are both in better situations now after the NBA trade deadline. Their careers are probably better off, and hopefully, they'll each get a ring now that they're part of winning reputable organizations.